Mystery Ketch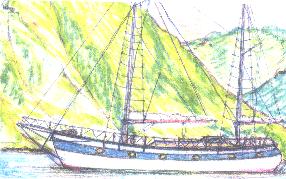 Intro.
Ever since the police investigation began, many experienced yachties have been horrified at the way police have tried to say key witnesses were mistaken about seeing a large older styled wooden yacht. The police of course were trying to suggest that what they really saw was Blade. A tiny 26ft, brand new, steel yacht with minimal freeboard, 700mm to be exact.
A group of these sailors, among them a professor of psychology with professional knowledge and experience in witness credibility, have got together and analysed the descriptions given by the key witnesses at the trial. As you will see from the descriptions given below, the detail is so clear, that the "mystery ketch" is undoubtedly confined to a narrow band of designs.
This vessel is traceable. It must have had a designer. It must have had a builder. It will probably have had a previous owner or two. It will have a present owner. It will need to have taken on water, fuel, and supplies and undertaken repairs at some stage. It must have been somewhere during the weeks leading up to 1/1/98 and so on. The police did not put much effort at all into finding the "mystery vessel" with most reported sightings just filed and then forgotten about. If the following description reminds you of a boat that you know of, make contact by means of the email button at the bottom of this page. The vessel is possibly now located overseas.
The police identikit below is not completely accurate and the witnesses who saw it have stated this. This sketch is of a "Hans Christian" design with added portholes and the "mystery ketch" was not a "Hans Christian". This identikit was released to the media by the Police early in the investgation as the vessel Ben and Olivia boarded. There are various sketches further down the page that came about from witnesses identifications during and after the Police investgation.The sketches are all remarkably similar.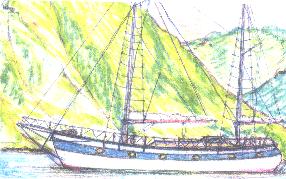 Police Artist's Impression
Comparison of Specifications
BLADE

MYSTERY KETCH

LOA:

26ft

Freeboard:

similar to a Naiad

Hull:

plain white

Sides of vessel fairly plumb

Steel hull

Steel decks

Sloop rig

No extra unusual ropes

38 to 45 foot

Freeboard about 2ft 6' higher than a Naiad

Plain white hull up to the freeboard of a Naiad then a further two foot of blue stripe plus a few more inches of white

Noticeable tumble home

Wooden hull

Wooden decks

Two masted

Lots of extra ropes, including hemp or manila ropes, and old fashion decorative ropework

No portholes on the boat

Large round portholes within the blue stripe on the hull portholes had 100mm brass surround
Mystery Ketch Description

Larger identikit at bottom of page.

Description of the two masted vessel which Ben Smart and Olivia Hope boarded on 1/1/98 off Furneaux Lodge; they were also seen on this vessel on 2/1/98.
Overall length:
About 40 to 50 foot.
Freeboard:
Height of gunnel above waterline; approx 5ft
Beam:
Gave the impression of being quite beamy.
Displacement:
Older style, heavy displacement vessel.
Bowsprit:
Sturdy wooden bowsprit 4ft long with netting below and no dolphin striker.
Bow and stern:
Appreciably (about 2ft) higher that toe rail amidships, sway backed.
Rig:

The early descriptions of the rig were mistaken.
The forward mast appeared to be about a boat length high, the aft mast about 8ft shorter.
These could be fishing boat type masts for aerials, lights and lifting- but it is more likely that they are masts consistent with an old fashion sailing vessel e.g. spritsail or gaff rigged. No one has said that they saw it under sail so this area still remains a little cloudy.
Prominent lights atop each mast, with elaborate rope work immediately below.
Four stays for each side per mast, spread further forward and aft than what would be normal on a sailing vessel.
The running rigging includes heavy hemp or manila.
The stays are secured externally to the hull.

Design era:

D
escribed as being no later than the 1960's but may be considerably older. One witness described it as being from the early 1900's. Variously described as a character boat or an antique boat.
The vessel gave the appearance of being very well maintained.

Hull:

Timber hull.
Long rubbing strip.
From the water line up about 700mm of white or cream then about 600mm of deep blue stripe running fore and aft.
Within the blue stripe were six portholes (on each side) with about 100mm of brass surround. The portholes were quite large.
Above this was a narrower band of white then a sturdy toe rail.
Sturdy railing near the bow then rope safety fence secured to the toe rail by zigzag rope bracing, as well as stanchions.
The sides of the hull bulged out slightly like a lot of the Scottish fishing boats.
High but quite fine bow.
Beamy amidships.
Counter stern with overhang, which gave the impression of a "pirate" stern.
The name on the bow was in gold script; the name on the stern was in lettering. The name on the vessel may have been "Mad Dog". It may also have had "Australia" on the stern.

Superstructure:

Wooden decks.
Flush decks forward from the bow to aft of the forward mast.
Cabin area amidships is very low and box like in shape, it then steps up somewhat further aft.
Small hard dodger around companionway, offshore style.
Cockpit right at the stern, quite deep so that the person sitting in the cockpit is visible from mid chest height up.
Smaller older style cockpit. Steep companionway ladder. There may be blue carpet below.

General

:
Described as a fishing ketch, with longlining gear aboard and many ropes, but with no fishing smells.
Decorative rope work, done to a high standard.
This description is compiled from witness's memories and it is quite possible that some details will be inaccurate.
The initial identikit of this vessel issued by the police should be disregarded, as it is misleading in some respects.

New Up To Date Mystery Ketch Sketch

If you have seen a vessel that looks similar to the one in the above identikit, please make contact by clicking onto the email button below-